XLTYM-1080 AUTOMATIC FOIL STAMPING&DIE-CUTTING MACHINE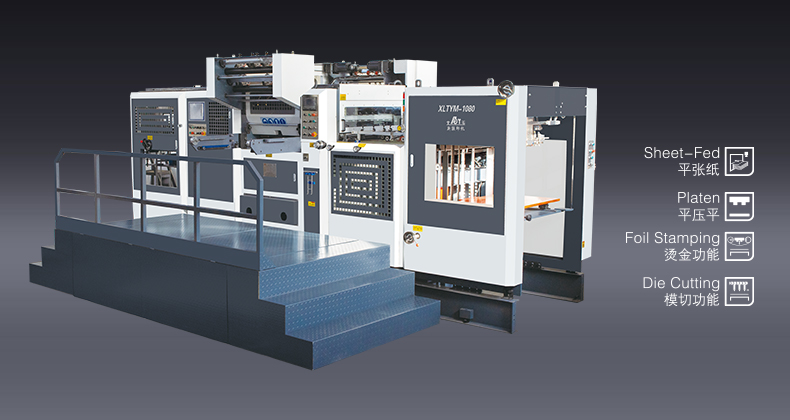 Main Features
XLTYM-1080 Automatic Foil Stamping&Die-cutting Machine is equipped with the horizontal and vertical foil stamping device, the structure is reasonable, the operation is convenient, is widely used for the die-cutting,creasing, foil stamping,cold and hot embossing of cigarette box, drug box and label in the packaging and decoration industries. The machine adopt the high technology to realize the fully automatic feeding,diecutting, stamping,delivery, up-press, down-press,leap step,counting, heating, pre-heating, obstacle indicating,checking and measuring.With the feature of easy operation, reliability, high speed, pressure and precision.
Features
1.Longitudinal and lateral foil stamping devices are equipped which make foil stamping process more reasonable.
2.The longitudinal foil-delivering unit can be pulled out when you install the foil ,convenient for operation.
3.Pneumatic plate-locking device is equipped which improves the level of automation.
4.Cooling device for lubrication oil is added which reduces the wear of parts when they are heated ,ensures the machine working pressure.

Main Specification

| | |
| --- | --- |
| Model | XLTYM-1080 |
| Max.Paper Size | 1080×780mm |
| Min.Paper Size | 400×360mm |
| Max.Die-cutting Size | 1070×770mm |
| Max.Foil Stamping Size | 1020×710mm |
| Max.Die-cutting Speed | 7000s/h |
| Max.Stamping Speed | 5500s/h |
| Max.Pressure | 300T |
| Stamping Setting temperature | 0-199℃ |
| Max.Foil Diameter | φ100mm/1″ φ195mm/3″ |
| Max.longitudinal foil length | 710mm |
| Max.lateral foil length | 1020mm |
| Heating quantity | 20 |
| Longitudinal foil shaft | 3QTY |
| Lateral foil shaft | 2QTY |
| Min.foil lengh | 0.01mm |
| Sheet Thickness | Corrugated≤4mm Cardboard 0.1-1.5mm |
| Heating plate power | 40KW |
| Main motor power | 15KW |
| Total power | 72KW |
| Total weight | 约18T |
| Overall Dimensions | 6000×4000×2300mm(含踏板) |
---