XLMY-1080R AUTOMATIC DEEP PRESSURE DIE CUTTING MACHINE (HEATING) 600T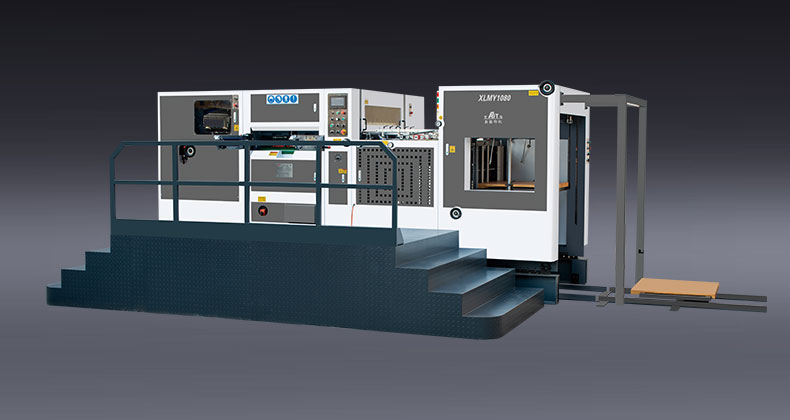 Main Features
1. XLMY-1080R automatic deep pressure die cutting machine (heating) is a key equipment for die-cutting, creasing, cold-pressing and embossing of various paper packaging and decoration such as cartons, cartons, and trademarks.
2. This machine adopts professional high-precision intermittent mechanism, pneumatic locking plate, pneumatic clutch and unique transmission mechanism, positioning system, high-speed and stable paper feeding, and pneumatic sampling to achieve smooth feeding, accurate positioning and neat delivery.
3. The tooth row transmission chain and the main transmission bearing are imported products with excellent performance, accurate precision and long service life. Install lubricating oil cooling device to reduce heat and wear of machine parts and ensure the working pressure of the machine.
4. The key components, control system and fasteners of this machine are imported products and carefully assembled. It ensures the stable pressure of the machine, accurate positioning, high die-cutting precision, and reliable safety detection.
5. The application of the interface of the electrical department realizes the automation of the whole process of the whole machine, with photoelectric detection, sound and light alarm functions, and can display various random working conditions and troubleshooting methods through the man-machine interface.
6. Using PLC programmable controller control, it realizes the automation of the whole process of paper feeding, die cutting, paper delivery, and fault display and detection.
7. The main motor is controlled by frequency converter, stepless speed regulation, and runs smoothly.

Main Specification
Model
XLMY-1080R
Max. Paper Size
1080×780mm
Min. Paper Size
400×360mm
Max. Cutting Size
1070×770mm
Max. Die-cutting Speed
7000s/h
Die-cutting Precision
±0.1mm
Max. Pressure
600T
Max. Feeding Pile
1600mm
Max. Delivery Pile
1400mm
Sheet Thickness
cardboard0.1-1.5mm
corrugated paper≤4mm
Main Motor Power
18.5KW
Total Power
48KW
Net Weight
≈18T
Overall Dimensions
4900×4000×2300mm
---