XLHX-1100AC / 1380AC / 1450C / 1600C AUTOMATIC FOLDER GLUER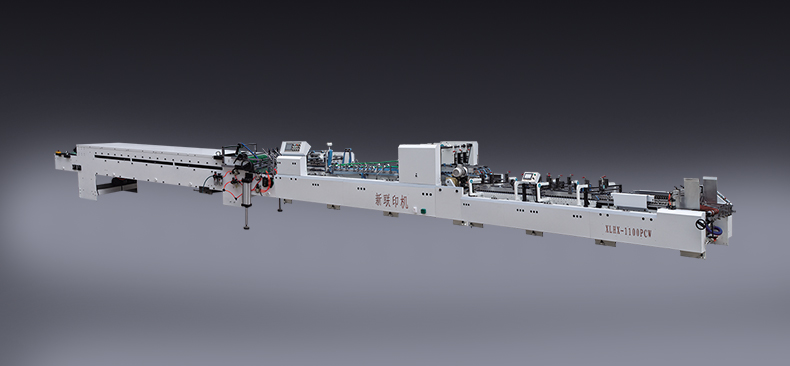 Main Features
1.The machine adopts the imported arc synchronous wheel drive double transmission, stable operation and easy maintenance.
2.The machine adopts the Delta frenquency converter, Schneider, electronic components, operation humanity ,the machine run more stable ,saving of the power.
3.The machine converter adopts double ivory adjustment, convenient and accurate.
4.The belts adopt multiple widen, thicken imported belts, ensuring the continuous paper delivery, automatic paper feeding, accurate paper folding.
5.It is equipped with the automatic amending device, making sure the accurate folding, gluing quality stable.
6.Pressing department adopt imported wider belts, conveying smooth.
7.Adopting the Human-Machine Interface and the PLC operation system, equipped with the photoelectric counting.
8.It is equiped with the automatic orderliness device, the skewed products will be revised automatically during the folding process, ensure the products perfect.
9.Pressing Department adopt the PVC belts, according to the pressure adjustment ,equipped with the sponge belts, ensure the quality of the hook bottom products, sticky firmly.
10.The machine is suitable for the cardboard and E, C, B, A corrugated box, and the three layers of paper gluing box.
11.The machine can produce the general paste , four edges hook bottom patching ,the configuration of the four hexagonal box and the special –shaped box can be choosed .
XLHX-580PC Main Specification
| | |
| --- | --- |
| Model | XLHX-580PC |
| Sheet Thickness | cardboard>400g |
| Max.Speed | 200m/min |
| Total Power | 5.5KW |
| Overall Dimensions | 8000×1100×1350mm |
| Weight | 1.5T |
XLHX-1100AC Main Specification
| | |
| --- | --- |
| Model | XLHX-1100AC |
| Sheet Thickness | cardboard E/B/C Flute |
| Max.Speed | 200m/min |
| Total Power | 21KW |
| Overall Dimensions | 13500×1800×1500mm |
| Weight | 7.5T |
XLHX-1380AC Main Specification
| | |
| --- | --- |
| Model | XLHX-1380AC |
| Sheet Thickness | cardboard E/B/C Flute |
| Max.Speed | 200m/min |
| Total Power | 21KW |
| Overall Dimensions | 14600×2100×1500mm |
| Weight | 8.5T |
XLHX-1450C Main Specification
| | |
| --- | --- |
| Model | XLHX-1450C |
| Sheet Thickness | cardboard E/B/C/A Flute |
| Max.Speed | 200m/min |
| Total Power | 25KW |
| Overall Dimensions | 14600×2300×1500mm |
| Weight | 10.5T |
XLHX-1600C Main Specification
| | |
| --- | --- |
| Model | XLHX-1600C |
| Sheet Thickness | A/B/E/C Flute |
| Max.Speed | 200m/min |
| Total Power | 30KW |
| Overall Dimensions | 16000×2400×1500mm |
| Weight | 13.5T |
---